Beautiful Bride Shoes Tips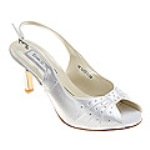 SO you are looking for a pair of beautiful bride shoes
As you are looking for your bride shoes the first thing is that they should be comfortable.
Remember you will be on your feet for most of the day and in the evening and there may be dancing.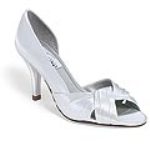 A few tips to help you
Start looking for your shoes early. By doing this you will have time for better choices and deals.
Next take these shoes with you when you are picking out you dress and try them on to see if they are going to match the gown and will your gown hem need to be altered. Break your shoes in. wear them a little bit each day before the wedding
So that there is no slipping or sliding on your wedding day buy some non-slip pads.
If you still can't find what you want in the department stores order online. Make sure you order early so that the shoes will get there to you home in time and in case you have to return them.
If you are having a beach wedding try wearing fancy jeweled flip flops.
If this wedding is in the spring pastel bride shoes are very pretty to wear with a white dress.
If you really want to be different try embellishing your shoes yourself.
Use fabric glue if you want to attach rhinestones, pearls, flowers, sequins, beads, or lace. You can also stitch the embellishment on if you like For ideas go to some of the wedding wed sites that have wedding shoes for sale.