The wedding ring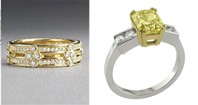 Your wedding rings will represent an endless commitment to one another. The tradition has been that most couples purchased rings with diamonds. Now couples are looking at other stones that are just as precious laid in solid gold or sterling silver. The symbolism is the same.
The look in rings is colored diamonds. The more color the better the look opposite of a white diamond. When you are shopping check to see the different hues and saturation and the tones. One will find colors ranging from faint to fancy light to fancy deep. Some customers like pink and blue, but there are a large variety of colors are available.
Pay careful attention in the care of your rings. Take your ring to the jeweler for cleaning once a year. The jeweler should check to see if the prongs are still strong on your ring. The proper care of your rings is that you should not wear your diamond ring while doing rough work because the diamond can chip. Keep your diamonds especially away from chlorine bleach.
You made a financial and emotional investment in your ring. One should consider buying ring insurance. The is a very special piece of jewelry. The latest colors for this year in colored diamonds are yellow, pink, blue, and black. A special touch could be to add to the sprinkling of color in your wedding gown, which can be accented by a colorful wedding ring diamond.
Added hints
You should always, make sure that you are working with a trusted jeweler. Ask to see the grading report from an accredited gemological lab to discover the originality of the diamond color.




The wedding engagement

Tips on announcing the engagement

Diamond Ring Video (Custome Order) not expensive

How To Buy An Engagement Ring - VIdeo

Engagement rings by joseph sterling

Buying an Engagement Diamond Ring *Video

Wedding Bands

Wedding jewelry sets

Tiara

Wedding Pearls Care