Doves Butterflies Bubbles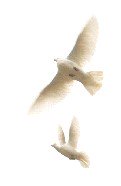 Alternatives to throwing rice are doves, butterflies or Bubbles
Brides today are looking for ways to make their wedding different and unique.
The releasing of doves is starting to become a very popular alternative to throwing rice.
Doves are really beautiful to look at. As the doves fly around you will see the delight and excitement on your guest's faces.
They will leave talking about the release of the doves and how beautiful it was. The ending to a beautiful church ceremony just before the reception.
One could also use butterflies. You can order butterflies from a butterfly farmer.
If you start here on the Internet you should be able to find quite a few butterfly farmers selling butterflies. I love the butterflies because they are so delicate to look at and your guests will love them.
Butterflies can be released as a mass release.
Another idea is that you can order enough butterflies to hand out to all of the guests or you can just have the wedding party do a release, or the bride and groom can do a mass release. (Just awesome)
A trouble spot for butterflies is rain. Butterflies cannot be released in the rain or in temperatures below 65 degrees, depending on the type of butterfly that you purchase.
In the event of rain, you can use a hanging cage that you can place your butterflies in and hang them at your reception. .
A really great cost cutting idea is to use bubbles. Bubbles bring out the kid in all of us and it is really fun to do.
A place to purchase the tiny bubble containers is at your local dollar store. What a great way to have fun and save money too.