Groom Formal Wear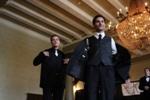 Now it's time to talk about the groom the groom formal wear for the traditional choices for a wedding and formal attire are less overwhelming than in a women's.
Tradition is only a guide line. Today's groom ,like today's brides, are incorporating more of their own personal styles into their wedding clothes.
While black tuxes remain the most popular choices for weddings, they're more loosely interpreted.
Tuxedos are the traditional attire for men at semiformal evening weddings. All follow the same basic form, with the same basic elements of jacket, pants, shirt, bowtie, cummerbund or vest, and optional suspenders
Now more than ever there are a variety of more colors and details to choose from for groom formal wear and this is where your creative input can certainly help.
Whatever your groom and his attendants wear should coordinate with the bride's dress and the bridesmaids in style with a certain degree of formability.
It can be a nice touch for the color of pattern of the groom accessories to reflect details of the bride's gown
Some new trends are high cut vests in a variety of patterns, from geometric to paisley, are gaining popularity.
Colorful patterns are also replacing black when it comes to bow ties. And, in a real departure from traditions some grooms are even giving up bow ties altogether and wearing banded collars or a collarless shirt.
If your man chooses to for groom formal wear a white or ivory tuxedo cut dinner jacket or full suit for a summer wedding, be sure it matches the white of your gown.
Pastel shirts and jackets are not as popular as they once were, but if he and his ushers go pastel, coordinate their colors with the bridesmaids dresses. Diplomatically remind them to were dark shoes and socks with a dark suit and light shoes and socks with a light suit.