Unique wedding dress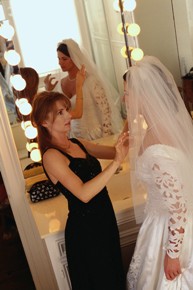 So now you are ready to choose your unique wedding dress. There are so many different styles of gowns to choose from it is best to go with a good friend or your mother. The selection is huge with many ideas for the gowns to choose from and this can be overwhelming at times. You may need to sit down first with some bridal magazines just to see what may look good to you. You can go from casual to designer by just looking in the magazine first. The magazine can give you some good ideas of what you may be looking for.
Here are some tips about fabrics
If your wedding will be in the summer organza which is a stiff sheer fabric is a good choice, chiffon is a fluid slightly woven fabric which is nice, rayon, linen is nice for the summers also. Now if you are looking for a structured coutured wedding dress, voile, cotton, silk, or rayon tend to drape easily . These is also alencon lace which is a delicate handmade pattern often used as an overlay on sheer fabrics.
Fabric for a fall wedding
Some fabrics for the fall would be shtung, brocade, tulle, satin, and taffeta. These are also good fabrics for your bridesmaid gowns. If you prefer a low cut or strapless gown, cover up for the ceremony in a matching jacket, hooded velvet cape, or silk designer shawl.




The Eve of Milady Bridal Collection

The Mon Cheri Bridal Collection

The Demetrios Bridal Collection

The Enzoani Bridal Collection

The Casablanca Bridal Collection

The Alfred Angelo Bridal Collection

The Sonia Cholette Bridal Collection

The Karelina Sposa Bridal Collection

The Mia Solano Bridal Collection

The Sincerity Bridal Collection

The Forever Yours Bridal Collection

The Maggie Sottero Bridal Collection

The Allure Bridal Collection

Mary's Bridal Collection