Wedding Cake Flavors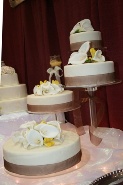 Now its time to check out all of the different type of wedding cakes and wedding
cake
flavors. Don't rush this step when planning your wedding. You want to really enjoy this process. Today there are so many absolutely beautiful cakes to choose from.
The wedding cake is like an edible work of art. Your cake can look like a heart shape, musical instruments, flower baskets, city landmarks. The list just goes on and on. Now of course there is the traditional wedding cake but why stop there.
Some ideas to work with is to consider the season of your wedding, flower arrangement, and your menu. Next consider the style of your wedding. Is your wedding traditional or non-traditional? Last but not least the wedding cake flavors.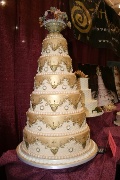 Now if are you the adventurous type of bride how about trying a white chocolate and lemon wedding cake . This is an amazingly delicious cake. There is also a raspberry and lemon combination that is outstanding also. Remember just take your time on choosing the right wedding cake flavors.
Before you place your final decision with the bakery make sure you have asked around about their quality.
Also remember to try some of the the cake samples. When you order your cake place that order at least 2 to 4 months before your wedding.




Wedding Cake Video 1

Wedding Cake Video 2

Wedding Cake Video 3

Wedding Cake Video 4

Wedding Cake VIdeo 4