More information on wedding gowns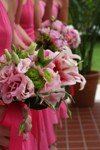 Wedding Dress
Your wedding day is will be one of the most important days of your life, however it can also often be one of the most expensive days in your life. For any bride perhaps the most important item on your shopping list will be the wedding dress. With a growing number of high quality but fairly cheap wedding dresses available today you can have your dream dress without breaking the bank.
For many people a wedding dress has to be a full length white gown, symbolizing the brides purity of heart and innocence, complete with a veil and train first made popular by Queen Victoria when she broke with the royal custom of marrying in silver and chose a white gown for her wedding to Prince Albert. This began a craze which continues today with a lot of brides selecting white or a variation of white such as cream, eggshell or ivory.
Wedding Changes
Today however we are witnessing two significant shifts taking place when it comes to weddings.
The first is a return to those pre-Victorian days when brides married in simple dresses of almost any color which took their fancy, except for black which was traditionally worn for mourning and red which was worn only by a lady of the night. This also means generally abandoning the veil, which is said to be a symbol of virginity, and the train which is a trapping of royal weddings and conjures up a picture of the peacock, which was formerly seen as a royal bird.
The second is a move away from church weddings towards weddings taking place in a wide range of venues, including the now popular beach wedding.
As a result not only do brides now have a far broader choice of colors for their wedding dress but, much more importantly, dispensing with the veil and train and the requirement to have a full length dress means that brides can choose from a huge range of far simpler wedding gowns. For those of us who need to keep a close eye on costs this is great news as informal wedding gowns are also much cheaper than the full length traditional white wedding outfit.
Another important point is that the move away from the full white wedding gown also means that it is no longer necessary to purchase your dress from a special bridal outfitter who, naturally, will charge a premium price just for the service which is provided or for the name or brand which you are buying. It is a bit like a pair of running shoes you can purchase two more or less identical pairs of shoes and pay six times more for one pair than for the other simply because of its brand name.
There has certainly never been a better time to shop for your wedding dress and the choices available to you today in terms of color, style, and supplier. It is no longer that difficult to find reasonably inexpensive wedding gowns and still end up looking like a million dollars in the dress of your dreams.




Discount Wedding Dresses

Tips for a Formal Wedding Style

Semi Formal Wedding Tips

Beautiful Black Bridal Show

The Glamorous Bride