Wedding Reception Planning with a Twist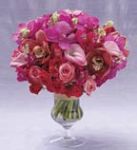 Some New Twists on Tradition
Most weddings are usually about tradition and it is wonderful to do some things that hundreds of thousands of couples have done before. But don't be afraid to create a wedding with your own style.
For example the Here's to you is usually the brides parents, the best man, or the maid of honor who raises a glass to the couple.
Well for a slight twist why not honor your guests with a toast? You can start by thanking them for coming and saying some kind words.
The Father Daughter Dance
Try including your guests in the father – daughter dance by having your emcee invite other fathers and daughter to join you the two of you.
Some brides even dance with their mother, stepfather, or friend. This traditional dance can be different by having whomever is special to you will be fair game.
Why not Cut the Cake Out
A traditional towering confection of a wedding mainstay, but today many couples are serving smaller cakes as part of a display. Couples who don't 't like cake are leaving it out completely.
Instead, you can serve cut out cookies of the bride and groom. Other delicious desserts instead of wedding cake can be cheesecakes, pi, or whatever sweets you love.